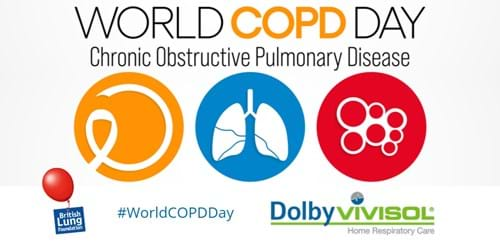 Wednesday 17th November 2021 is World COPD Day and gives us the opportunity to raise awareness of COPD - Chronic Obstructive Pulmonary Disease. We will look at the disease and highlight where you can access information to help manage the condition. 
What is COPD? 
COPD is the name for a group of lung conditions that cause breathing difficulties. These include emphysema - damage to the air sacs in the lungs and chronic bronchitis - long-term inflammation of the airways. 
COPD is a common condition although, some people do not realise they have it. The condition mainly affects adults (middle-aged and older) who smoke.
Breathing difficulties can get worse over time, however, treatment can help control the condition. 
The main cause of COPD is smoking and the risk of developing the condition increases the more you smoke and the longer you smoke for. Other causes of COPD include long-term exposure to harmful fumes or dust. There are also very rare genetic issues that make the lungs more vulnerable that can result in COPD. 
Treatment
Even though the damage to the lungs caused by COPD is permanent, treatment can slow the progression of the condition down and even keep it controlled so it does not severely impact daily activities. 
If you have COPD and are a smoker, the best thing that you can possibly do is give up smoking. There are some useful hints and tips here as well as areas where you can receive help and support. You can also visit the NHS SMOKE-FREE page here. 
Other treatment includes medicines, specialised exercises and surgery. 
World COPD Day 2021 
Our friends and colleagues at the British Lung Foundation (BLF) offer numerous suggestions on how you can help manage your own condition. There are useful and inspirational stories that provide advice from other people living with the condition. 
Discover more about COPD here and join us in raising awareness of the condition. 
Sources: 
NHS: https://www.nhs.uk/conditions/chronic-obstructive-pulmonary-disease-copd/ 
BLF: https://www.blf.org.uk/support-for-you/copd/world-copd-day