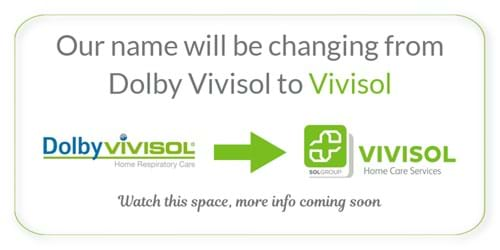 We're pleased to announce that we will be changing our name in 2023 from Dolby Vivisol to Vivisol and while our name is becoming shorter, we'll certainly be keeping our commitment to providing the best service for all of our patients and healthcare professionals. Our heritage is extremely important to us and we will continue to operate in such a way that our history is never forgotten, so why are we changing?

You may or may not be aware that Vivisol is a recognised brand across Europe. Vivisol, founded in 1986, is an arm of the SOL group and is fully dedicated to Home Respiratory Care. The company is one of the premier European groups working in the home care sector specialising in respiratory care, mechanical ventilation and diagnosis, and sleep-disordered breathing.
Dolby Medical was founded in Stirling by Ralph Dolby in 1956 and was a provider of healthcare products and services to healthcare organisations throughout the UK. In 2010 Dolby Medical became the newest addition to the Vivisol family and Dolby Vivisol was born.
As we move through even more inclusive ways of working we're proud to become aligned with the full Vivisol family and continue practising our collective underlining message that "We Care". Our Vivisol values of care, inclusiveness, professionalism, expertise, safety and innovation, to name a few, bed the essence of the brand for its patients, healthcare professionals and teams alike.
Your service and the way you contact us/we contact you will stay the same. Over time, our website will evolve, our vans will have an updated look and our technicians will have a different uniform. We will keep you up to date with the progress and look forward to moving to this new chapter.